MTG Print v2.0
October 28th, 2022
Hi! Welcome to the first post of MTG Print 🚀.

If you are a returning user of this site, you may have noticed that several things have recently changed 🤯.
I think it's a good time to start telling you the most relevant news more directly, so let's start with this first post!
Related sets
Now the sets pages list related sub-sets, intended for tokens, commander and others.
For example, in Innistrad: Crimson Vow you will see something like this:
With this change I can enable many sub-sets that were previously inaccessible on the site.
Card detail
Probably the most drastic change is the way you add cards to your print list. Previously you would accomplish this by hovering over a card and then adjusting the number of copies in the popup.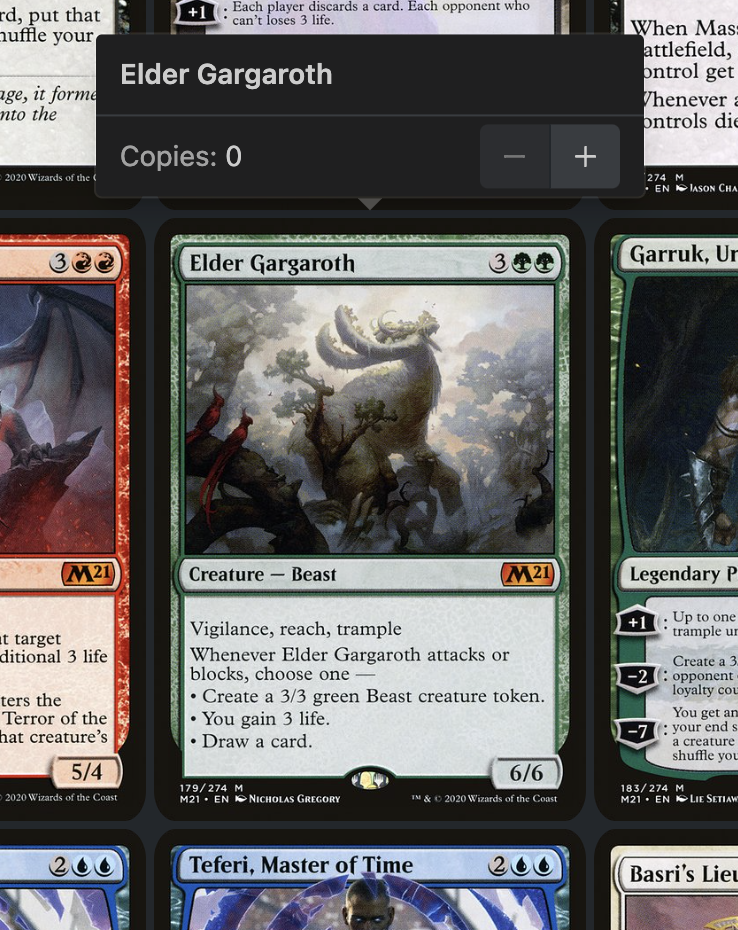 This causes several drawbacks:
There's not enough space to add more card information.
It is not a friendly mechanism with users who use their keyboard to navigate.
The popup keeps getting in the way when scrolling through a list of cards.
To solve these problems, the new way to add cards to your list is by clicking on them, try it with this card!
In this dialog you can:
Add the card to your print list.
Easily access its related cards (for example if it generates tokens or is part of a combo).
Review different sets of this card, in all available languages.
You can even add copies of different sets to your print list at once.
As a bonus, this even works with tokens, where you can also see other variations that share the same name. Try clicking on this card!
Export and search
Let's consider that you added to your list more than one variation of the same card and even from the same set, such as:
Previously, this list would have been exported like this:
1 Ugin, the Spirit Dragon [M21]
1 Ugin, the Spirit Dragon [M21]
Using this list and importing it back into the site through the searchbox would have resulted in adding the same card twice, losing the choice of variations you made 😥.
In this new version the list will be exported like this:
1 Ugin, the Spirit Dragon (M21) 1
1 Ugin, the Spirit Dragon (M21) 279
If you use this list in the site searchbox, the variations you have selected will be honored and it is also compatible with imports of Magic: The Gathering Arena.
Accessibility
Last but not least, I want MTG Print to be a site that everyone can enjoy equally, regardless of the different capabilities we have. This is why from now on I will take great care that the site is friendly with assistive technologies and keyboard navigation.
This new version is a big step on this path but there is still work to be done.
Future work
The internal changes to the site and all the new features that I just told you about respond to the problems and needs that you have made me aware of, but there is still work to do 🚧.
These are by far the most requested features that I haven't yet implemented and hope to be able to do it soon:
More customization options when generating the PDF: Adjust cards size, margins, page sizes and more.
Being able to filter cards in a set list. For example by color, type or cost.
Thanks so much for reading! Big hug.